WANT TO BE A PART OF CHALKTOBERFEST? HERE'S HOW!
This award-winning, family friendly, festival attracts over 100,000 visitors of all ages to the Marietta Square the second weekend in October.  Chalk artists from around the world come to delight visitors with their talents.  Art & craft vendors line the streets with unique, one-of-a-kind artwork, while the Craft Beer Festival attendees enjoy of 120 craft beers and 25 wines.  Visitors can enjoy live music, food trucks, a Community Chalk Competition, and a scavenger hunt.
There are so many ways in-which to participate in Chalktoberfest!  We need sponsors, artists, volunteers, vendors, food trucks, entertainers, and Community Chalk participants.  To find out more just click on the image of the role you are interested in.  Applications are available online or by email and spaces fill quickly.
Join our Community Chalk Contest! This is a chance for local artists to create their own chalk art at Chalktoberfest and be considered for awards. There are divisions for individual artists of all ages, and for school teams. Three prizes are awarded within each age group/division. Click the image for more information, competition rules, and online registration.
Volunteers play a vital role in the success of Chalktoberfest. We need over 400 volunteers to help with everything from setting up and taking down the festival, face painting, selling beer, the beer festival, and many other jobs. Age 16+ (unless working with a parent). If you would like to volunteer, we would love to have your help. You can email: jfoxmcma@mariettacobbartmuseum.org
With over 100,000 visitors, Chalktoberfest is a fantastic festival to participate at. We are no longer taking applications for vendors or food trucks.
Sponsor blocks sell-out quickly! Your company name will be displayed on a chalk block, t-shirts and other locations during Chalktoberfest. This award-winning festival attracts over 100,000 people so if you want to get your name in front of the Cobb County community and support the Marietta Cobb Museum of Art. Email us to find out more: sally@mariettacobbartmuseum.org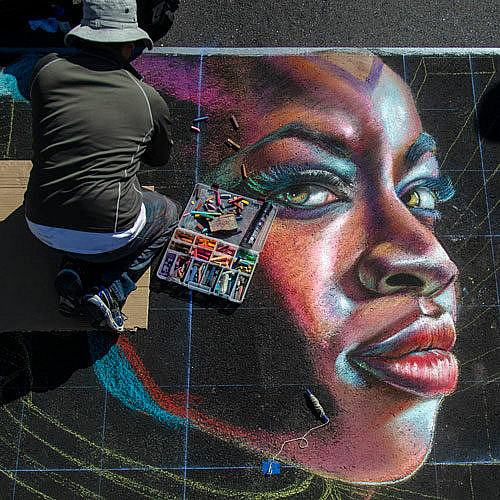 PROFESSIONAL CHALK ARTIST
Chalktoberfest 2021 Professional Chalk Artist applications have closed. Chalk Artists create large works of art on the streets of Marietta.
A high note of Chalktoberfest is the outstanding talent that performs on the stage in Marietta Square. Up-and-coming performers as well as established favorites entertain and delight audiences of all ages.