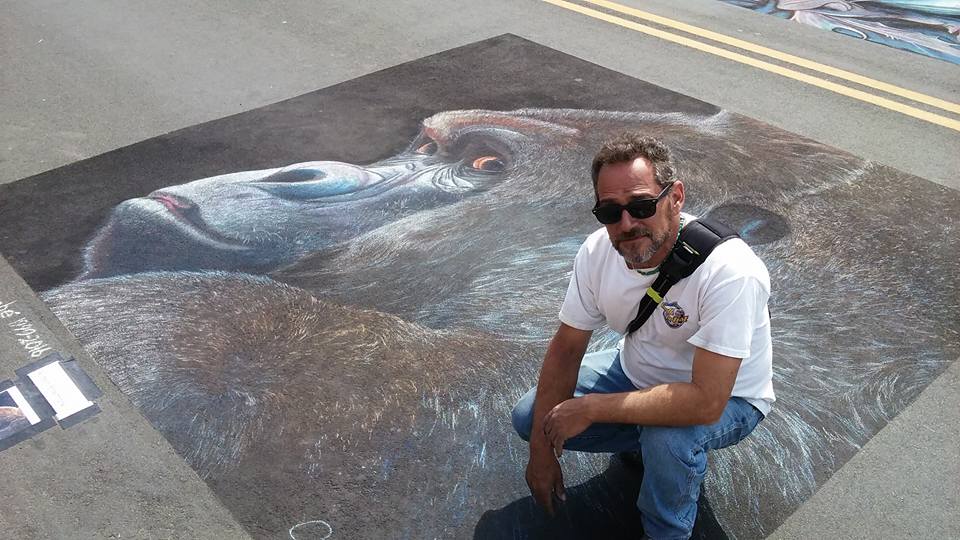 Michael Las Casas & Darla LeFew
Michael Las Casas is an award-winning street painter, experienced in a wide variety of subjects, from master reproductions, animals, racing cars, aircraft, and dinosaurs. "I find it rewarding to engage the crowd, teach them a few tricks for those who ask, and the conversations with the children, sometimes, can be quite comical."
"Of all the 'art' venues I have participated in my life, to me, there is little that compares to 'chalking' and the opportunities that are afforded to me to see new places and meet and make so many new friends from around the world. I can't think of anything else I would rather do." Michael has been a professional artist his entire adult life, and he has been drawing ever since he was a toddler. Michael's career spans over 25 years of graphic design, and 30 years in fine arts. Art is an "Exploration" of concepts, ideas, dreams, statements, beliefs, and values, coupled with the exploration with mediums; pencil, watercolors, oils, street painting, etc. I never really know where it's going to take me, and most times that journey is interesting, to say the least. Street painting, for me, is the ultimate in art exploration and expression. Nowhere else have I found the opportunity to create my art in front of you, and while I do, express both visually and verbally what I am doing, and how I do it.