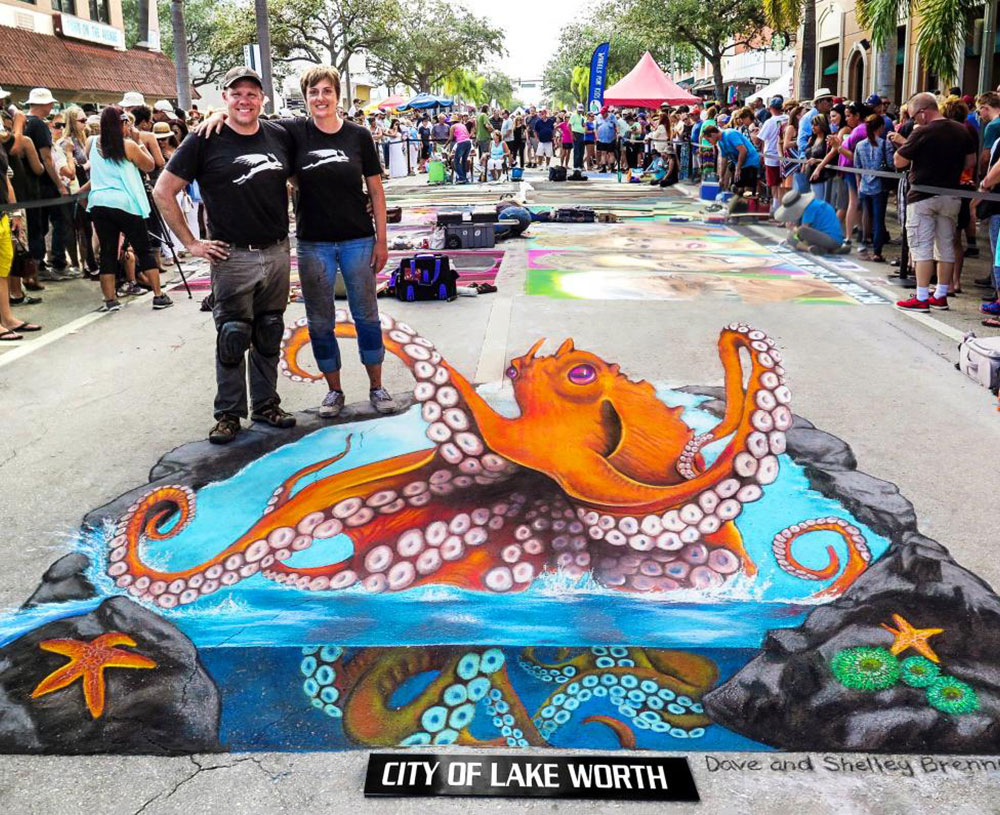 Dave & Shelley Brenner
Dave was born and raised in the Land of the Midnight Sun- Fairbanks, Alaska and currently resides with his chalk artist wife, Shelley Brenner, in Chelsea Michigan. He holds a BFA with a concentration in painting and a BA in theater from the University of Alaska – Fairbanks. He is now the Creative Director at the University of Michigan School of Natural Resources and Environment. His fine art and photography have been featured at multiple venues throughout Alaska and the Midwest. Dave discovered that his dual passions for painting and acting translated seamlessly into street painting. He loves to bring images to life in large-scale while engaging with interested passersby.

Shelley Brenner has been featured in a large number of street painting festivals both nationally and internationally. A lifelong artist in a variety of mediums, she now focuses much of her artistic attention on traditional and 3D street painting. Her work is often inspired by classic portraiture, interactions between humans and nature, and the unexpected. She loves the process of bringing a piece to life in large-scale within a public and accessible environment where artists and others can interact. As one half of the Pigment of Your Imagination team, she also enjoys collaborating with her husband, Dave, on large 3D designs for festivals and clients. Shelley began her higher education with a fine arts scholarship at Wayne State University in Detroit, MI. Today, in addition to street painting, she works as a Certified Registered Nurse Anesthetist in Ann Arbor, MI.